When we bought our new house last year I was amazed to find that the kids bathroom was painted almost the same exact bright green as their bathroom at our old house. I was tired of it. I new I wanted something fun for the kids, but its so hard to find bathroom themes for girls & boys that is not fish, ducks or ocean... and none of those appealed to me really.
So after hours (seriously) of searching online for something cute, I finally headed over etsy to look for some fabric to make something myself. I found this adorable set of owl fabrics by Moda - Its a Hoot by MoMo. I thought that the combination of blues, greens, pinks, etc. would work well for my daughter & sons. Plus its modern & funky enough to be nice looking for a guest bathroom too.
I toyed with the idea of making the entire shower curtain myself. But then when I realized I'd need yards of fabric to do it and that I wanted to have some coordinating fabrics to do some other projects with. So this is what I came up with. I apologize that I can't make this into a tutorial to show how to make the shower curtain or some of the other projects, but this was done over the summer before I wanted to do this blog. :)
For the shower curtain I bought a plain shower curtain at TJ Maxx, then I added 2.5 yards of fabric (divided) + another Quarter yard of fabric in the dots
I used Mod Podge to adhere fabric to the light switch & outlet covers. It took just a little bit of time & fabric. :) Seriously it was fast - just had to let them dry between coats of Mod Podge. I loved Mod Podge during this project - but for what it is its not worth buying it at the store! Another fun little mod podge project was taking 3 of the $0.99 wooden plaques found in the craft section at WalMart and putting fabric on them, then I screwed robe hooks into each of them to use to hang the kids towels on - there's no other way to hang up towels for 3 kids in there. ;) We added a new towel bar for guest towels too. I found this recipe for how to make your own on Pinterest -
click HERE
to find the recipe & save yourself some $ to apply towards your next project. I know I will!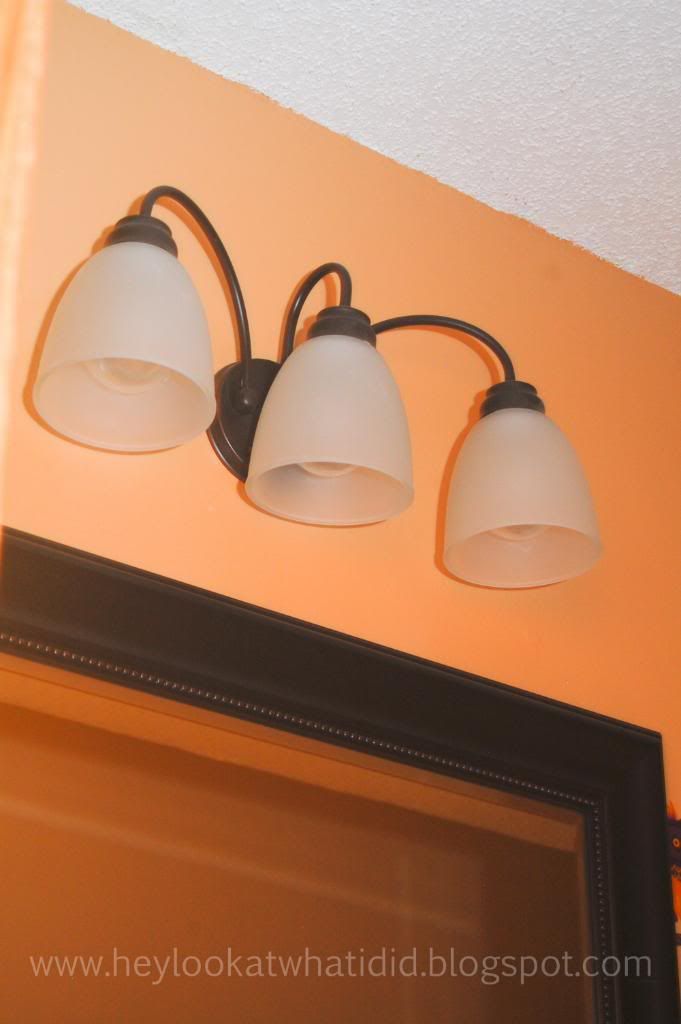 I found this cute inexpensive light fixture and mirror at Home Depot. When I took down the ugly builders special bar of light bulbs light fixture and medicine cabinet I found that the medicine cabinet was literally screwed into the wall covering up a giant hole in the drywall and that the light fixture was cut horribly too. So I had to enlist my husband in my simple little remodel that I was supposed to handle on my own. Both of these items were under $50/each at Home Depot too!
While shopping at Pier1 recently I found a great set of Owl wall decals there were 8 owls, 4 branches & tons of leaves and it was cheap! Plus they are movable so if I made a mistake when putting them up I could fix it (easier than vinyl wall decals & lots cheaper too!).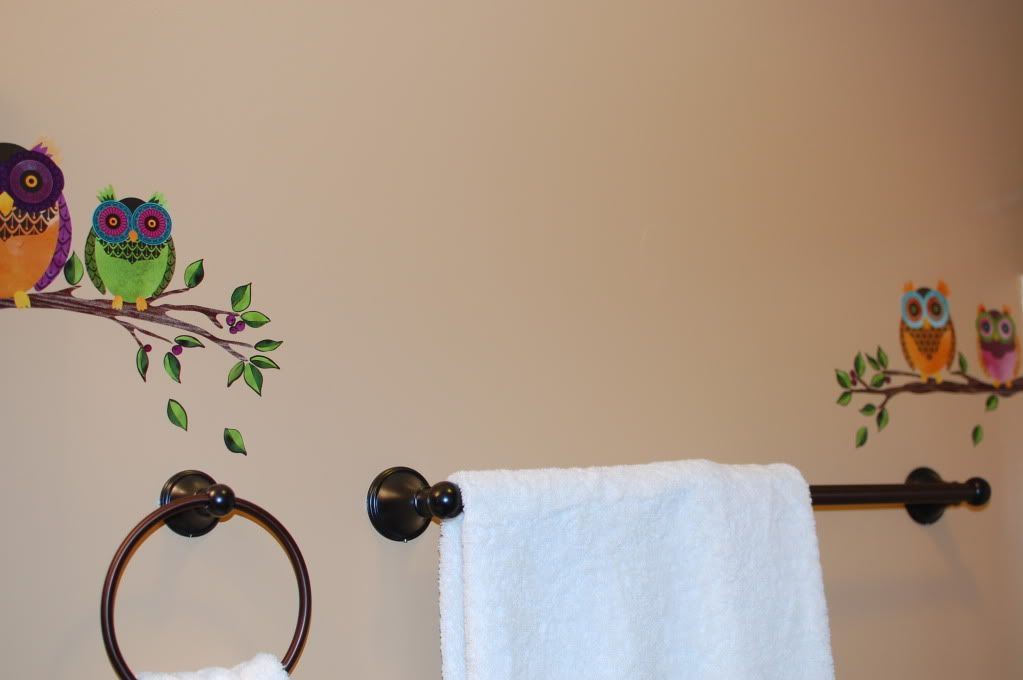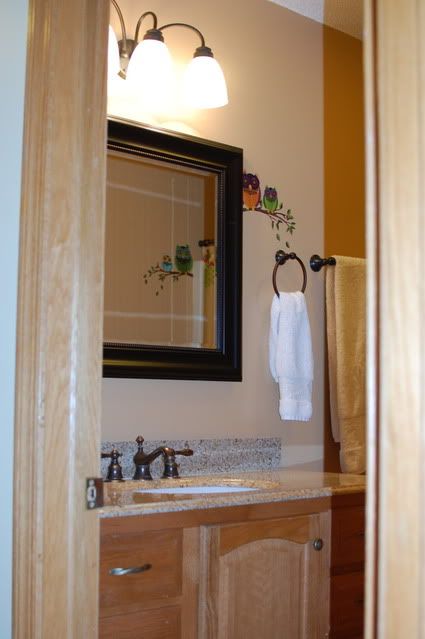 Luckily the vanity, counter, hardware & faucet had all been updated before we bought the house so we didn't have to buy that. I just bought a kit with a towel bar, hand towel bar, and toilet paper holder to update all of those fixtures.

A few tips on the shower curtain:
Here is just an extra up close shot of the shower curtain. I pretty much cut it in half, then sewed the two halves together - creating a seam down the middle of the shower curtain, then I cut a long strip off of that about 6 inches to make the band at the top too. I did the same with the green dot fabric. I actually attached the fabric to the middle of the curtain & then folded it over on the edges to make some clean hems, but in an effort to make the shower curtain a tad longer & also to get rid of the bunching that kept occurring because I wasn't using any type of fusible interfacing I left the bottom hemmed, but did not sew the fabric to the shower curtain. Did that make sense? If you would like to attempt this & need help either leave a comment or contact me! I'm happy to help!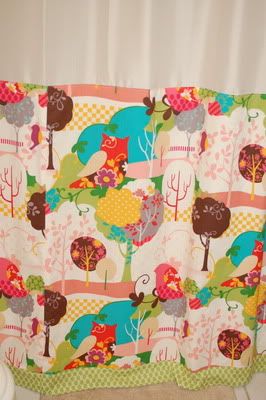 I still want to add a few pictures/photos to the room and use my extra fabrics to dress up some plain towels, but those projects can wait for now!